"Three Shots Rang Out in the Jungle!"
With these words Robert C. Yeager began his career as a journalist and author. He was in the 6th Grade.
Today, he is an award-winning writer, editor and communications professional. His CEO-level speeches and presentations have drawn coverage in newspapers and been reprinted in Vital Speeches. The author of critically-acclaimed Seasons of Shame: The New Violence in Sports and Losing It: The Economic Fall of the Middle Class, both by McGraw-Hill, Yeager's articles have appeared in many major national newspapers and magazines. In the spring of 2012, his novel, The Romanov Stone, was published by Abbott Press. Read the Press: Romanov Stone Wins National Awards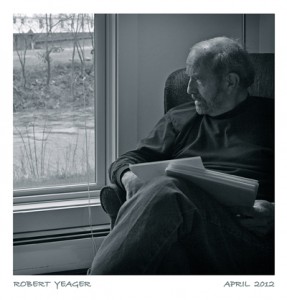 Born in Los Angeles, Yeager grew up in rural Escondido, California. His family later moved to Whittier where he landed his first writing job as a stringer for the Whittier Daily News. In high school, he worked as an editor of the student newspaper and as a contributor to the upstart literary manifesto, We The Sheep. While attending Columbia University in New York, Yeager worked as an editorial assistant at The Chelsea Clinton News, one of Manhattan's oldest weekly newspapers. Yeager received his bachelor's degree in economics from Whittier College, where he contributed to The Oak and Thistle literary magazine. He earned his masters in journalism at the University of California at Berkeley. His thesis on the Congressional War Powers was reprinted by Freedom House and the U.S. Army War College.
After serving as a journalist and editor for the Coast Guard, Yeager began his professional career at The Napa Register. Besides writing feature stories and covering local politics and sports, he wrote major investigative pieces on the struggles of Mexican-American workers in the wine industry, environmental problems at a nearby lake resort, and other issues.
Yeager subsequently worked as a San Francisco-based correspondent for the Associated Press and for McGraw-Hill, where he wrote for Business Week, Platt's Oilgram, the New York Times Service, and many other business and professional periodicals. His articles on sports violence were reprinted in the Sunday New York Times and Reader's Digest, and nominated for the National Magazine Award.
In the corporate setting, Yeager has served as a CEO-level speechwriter, preparing keynote presentations and remarks to international and domestic audiences, and as a senior international relations consultant with a special focus on developing world issues. As leader of the project team that created Chevron Corporation's first global Intranet site, Yeager received the firm's Chairman's Award, its highest honor.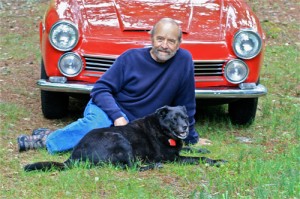 In addition to his writing activities, Yeager is an ardent aficionado of Alfa Romeo motor cars. He has owned three vintage Alfas, and regularly displays his 1964 Alfa Romeo 2600 Spider at local and regional concourse d'elegance events. He is frequently seen driving the Touring-bodied vehicle, top-down, with family dog Sampson happily sniffing tailwinds in the back seat. Occasionally, Yeager writes about and photographs vintage autos, as in this blog for the New York Times, which helped celebrate Alfa Romeo's 100th Anniversary.
As an originals writer for Reader's Digest, Yeager's feature articles and true-life dramas have covered a wide range of human experience, from the crash of an ambulance plane rushing a dying child to a life-saving operation; to the plight of infants born to crack addiction; to the heart of a mother determined to bring her son's hit-and-run killer to justice. In other national publications, he's chronicled the hostage takeover of a Utah maternity ward; the terrifying stalking by a mountain lion of a Montana family; and the historic roots of an Ohio town first surveyed by George Washington.
Besides the Digest, Yeager's feature-length reports have appeared in the New York Times, Family Circle, Ladies Home Journal, Woman's Day, ThirdAge.com, etc., as well as his own blogs such as Toot-Toot!, a blog journal of the author's cross country railroad trips on AMTRAK in September 2009. A 2012 Vermont Studio Center Writing Fellow, he is currently revising his novel, The Platinum Harrods, a Top 100 finalist in Amazon.com's worldwide Breakthrough Novel competition.
His previous books include Seasons of Shame: The New Violence in Sports and Losing It: The Economic Fall of the Middle Class. Published by McGraw-Hill, both books were well-and widely reviewed by, among others, The New York Times, Publisher's Weekly, West Coast Review of Books, Barrons, Kirkus, and led to appearances on CBS 60 Minutes, NPR, Larry King, Owen Spann, etc. Losing It was serialized in dozens of metropolitan newspapers, excerpted by The Conference Board and Reader's Digest, and translated.
Yeager's awards include: Best San Francisco Bay Area Writing Portfolio, International Association of Business Communicators; First Place Vision Award, American Public Health Association (for Reader's Digest project, translated into 17 languages); First Place Magazine Award, Stanford University Publishing Course; First Place Environmental Magazine Writing (with Claudia Deutsch of Business Week); Chevron Chairman's Award; and numerous feature and news writing excellence awards.
Yeager lives in Oakland and The Sea Ranch, Calif., with his wife Judi and Sampson. Their daughter Racheal manages the global HerProject on women's health for Business for Social Responsibility, a San Francisco-based consultancy.