The Romanov Stone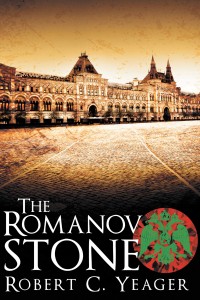 Her mother's deathbed revelation that she is a descendant of Nicholas II, Russia's last tsar, launches reclusive Kate Gavrill on a bold search for a lost family fortune. But nothing is simple in the tragic history of the Romanov clan. Only by finding the rarest of precious gems—a fabulous, long-missing alexandrite—can Kate claim her treasure.
At her side as she journeys across continents is Simon Blake, a respected New York gemologist, whose powerful attraction to Kate is undercut by deep fears about her mission. In their daring quest, they confront Colombian jewel thieves, blood-thirsty Ukrainian mafiya, and a sinister cleric trained in mind control, each hoping to seize the Romanov Stone.
Haunted by her past, driven by a promise to restore her family's name, Kate gambles all for a prize she may never attain.

"Kate's mother must have dreaded the day of truth telling, yet known that day would come. She'd bequeathed her daughter a priceless birthright and an unmet challenge, one that demanded Kate risk her life in a country she scarcely knew."—from The Romanov Stone
"Five Gold Faberge Eggs!" – BookDepository.com
Learn more about what people are saying about The Romanov Stone…