Passion and pain—the words stick in my memory after three days at the Russian Festival in San Francisco (Feb. 22-24).
Judi and I were there to promote The Romanov Stone, my suspense thriller about a young woman's search for a priceless alexandrite given by Russia's last tsar to her great grandmother. I'd made up  posters of the cover and reviews and put together a looped video that showed a quick overview of the plot. The event was a success! We sold all but four of the copies we'd brought.
Merchandising prowess wasn't the real story, however. Over the three days our booth buzzed with tales of Russians who'd endured more than any people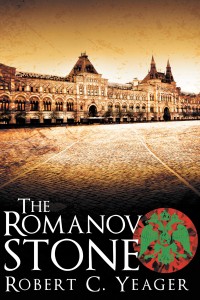 's fair share of human suffering.
Several were descended from refugees who'd fled their homeland after the defeat of the White Army in the 1920's.  Many settled in cities like Harbin, Dairen and Mukden in northern China. With that nation torn by internal conflicts between war lords, communists and Chiang Kai-Shek, and later invaded by marauding armies of Japanese, many of the Russians suffered as much as they would have under the Bolsheviks.
Monika, her granddaughter riding in a "baby sack" on her chest, told of her wealthy great grandparents being beheaded by their Chinese servants, who then looted the family's money and jewelry. Romanov Stone buyer Viktoria was fascinated by the alexandrite at the story's center; her middle-aged son Michael ("Misha") showed pictures on his smart phone of refugee ancestors in China, one a former Trans-Siberian railway conductor. When the Japanese invaded, troops with fixed bayonets confronted two defenseless relatives, one of whom suffered from a pronounced "lazy eye" eye-roll. As they were about to be killed, the errant eye slid wildly in its socket and the superstitious troops, fearing an evil spell, lowered their weapons. Both survived and escaped to Hong Kong.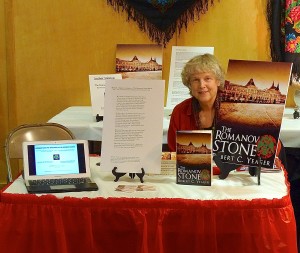 Others told of close ties to pomp and power—and lost family treasures. One man, an officer aboard the USS Pueblo when it was seized by North Korea, remembered being shown a glittering Faberge egg as a boy. It had been given by Tsar Nicholas II to his uncle's father, a close aide to the emperor, on the occasion of the latter's impending marriage. When his aunt died, the safe deposit box where the fabulous piece had been stored was opened. The precious artifact was nowhere to be found.
One woman recalled her husband losing a valuable heirloom alexandrite ring. "I wasn't angry at him," she said. "I"d always been told alexandrites bring bad luck."
Historical wrongs bubbled close to the surface. A local college professor expressed outrage at English Queen Mary's sharp trading to obtain many of the Romanov jewels that today bedeck Great Britain's Royals. Another customer's grandfather had been financial minister in Russia's ill-fated provisional government headed by Alexander Kerensky. Like other ancestors, he had been executed.
Many other future readers of The Romanov Stone were just interesting in their own right.    Michael offered to help arrange an author reading at a local bookstore—a descendant of White Russians, he turned out to be San Francisco's fire commissioner. Valentina had vision problems and had to return with special glasses before buying a book. Mary Ann was blind, but purchased a copy for her uncle. Betty was a Mexican-Russian who came back to make a purchase. Nicolai and his Chinese girlfriend bopped around our booth, snapping pix with an i-Phone. Greg, an aspiring screenwriter who works for eBay, chattered like an old-fashioned telegrapher tapping out an urgent wire.
Three floors above, Russian singers, dancers and musicians filled a 500-seat auditorium with strains that could stir hearts in a graveyard. From graceful ballet to the gymnastic sailor's dance "Yablochko;" from scenes by Pushkin ("The Golden Cockerell") to the Russian Center's own "Firebird" dance ensemble; the talented performers—many of them barely school age—sated the senses of sight and sound. Ample helpings of blini, borscht, palmini and a dazzling pallet of vodkas, featuring flavors from buffalo grass to guava to cucumber, satisfied taste and smell.
Touch was left to those drawn by The Romanov Stone. The stories of our visitors and their families reached out and enveloped us. Though hints of accents often fringed their words, outwardly they resembled most Americans. But inner memories proved more stark and vivid. "We Russians have known pain," understated LaRisa, who worked in the adjacent booth selling bright Russian scarves, shiny lacquer boxes and embroidered caps. Then she offered us a handful of mandarins.